How to Make a Beautiful Table Setting on the Cheap
Thank you to the Chinet® brand for sponsoring this post.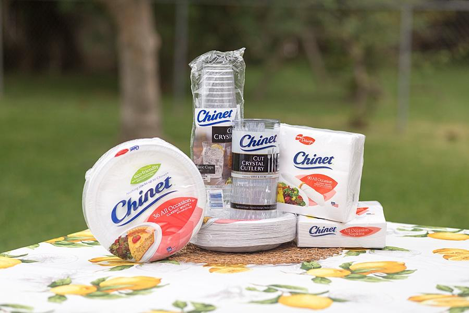 Click the image above to shop!
Setting a beautiful table is a lot easier and cheaper than one might think. Yeah, you can opt to have a fancy dinner party with crystal glassware and fine china, but you can create just as nice of an event by using a few key items and not getting out the fancy dishes! How do you it? Here's a few tips (including my secret weapon,
Chinet® Classic White™ products!)
:
Pick a Theme. Choosing a theme and sticking to it will help you focus on what will work for your get-together and what you can leave out. For summertime, I had to go with some summer citrus! There's nothing more summertime for me than a lemonade stand and ice cold lemonade!
Linens. This is where I tend to indulge a little. I found this great tablecloth for under $20 and it became the focal point to my table. You could also go with a plain tablecloth and add in hints of decor items to drive home your theme.
Table Settings. I don't know about you, but the worst part about having people over for me is the aftermath - the dishes. Yuck. I hate doing dishes. That's why, whenever I can, I opt for Chinet® brand products. Chinet Classic White plates make cleanup easy, just throw away when done! And the great thing about their products is that they're BPA free and they really are perfect for any occasion. Whether it's a backyard barbecue or rehearsal dinner, Chinet Classic White plates have you covered with their convenient, thick and sturdy designs. And Chinet Classic White products all stand up against the toughest of situations. The plates don't leak or fold under the pressure of heavy foods. The Chinet® Cut Crystal® cutlery is stronger than most I've seen and the napkins are thick and have great absorption. Best of all, Chinet Classic White products make serving and cleanup easy, so you can spend more time with friends, family and guests.
Decor. Little bits of decor go a long way. I opted for some lemons at each place setting (I love anything I can get double duty out of), as well as some yellow daisies.
This lemony summer theme was so fun! I can't wait to see how you pull off your table settings this summer!
If you'd like to see more tips like these, follow me on Pinterest! And you can learn more about Chinet® Classic White™ products by clicking here.
I was selected for this opportunity as a member of CLEVER and the content and opinions expressed here are all my own. Chinet® and Classic White™ are registered trademarks of Huhtamaki, Inc. in the U.S. and other countries.